Image: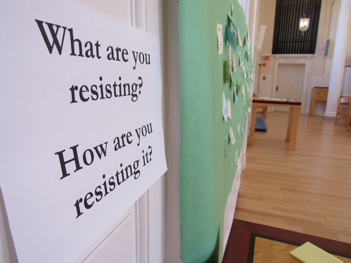 Many Christian worshipping communities rely on sermons—a homily preached by a single individual to or on behalf of a congregation—as the primary mechanism of proclamation within the context of worship. But preaching is not the only way to proclaim the good news. This past year in Marquand Chapel, we have been exploring communal homiletics.
A community homily is the proclamation of God's word in the context of worship by a community, rather than an individual. There is no shortage of outstanding preachers at Yale Divinity School, and we frequently highlight those homiletical gifts in Marquand! However, we have also found richness in creating worship services that rely on multiple voices, rather than a stand-alone sermon. We frequently try to break open prototypical sermon structures—one person speaking, everybody else listening—to create something different. Here are some examples of communal homiletics in Marquand Chapel. 
1.     THE RESISTANCE WALL, "Service of the Word: Take a Knee" on November 7th, 2017, designed by student Chapel Minister Ann Jacob
"Service of the Word: Take a Knee" was curated in response to the widespread backlash against NFL athletes who protested racial injustice by kneeling during the National Anthem. In a time when kneeling was seen by many as an act of unpatriotic protest, Marquand observed the role of kneeling as a spiritual practice and as an act of sacred resistance.
Scripture in this service named kneeling: Romans 14:11, Luke 22:41, and Psalm 95:6.The posture of kneeling in prayer was given new depth by being drawn together with the image of athletes kneeling in protest.Through congregational song and poetry (Langston Hughes' "I Look at the World" and Ilya Kaminsky's "We Lived Happily During the War") these scriptural texts were creatively reframed in the context of resistance. 
Instead a sermon, the assembly was invited to consider two questions: 1) What are you resisting? and 2) How are you resisting it? Then they were invited to write their reflections on post-it notes and place them on THE RESISTANCE WALL. While this service could have included a prototypical sermon that spoke to themes of resistance and kneeling, the collective naming of personal moments of resistance was far more powerful. Each individual named, via post-it, ways that the Holy Spirit moves in them to resist that which is counter to God's love. Not only did each person participate in proclaiming this good news by contributing to THE RESISTANCE WALL, they also received this good news in the form of illustration: THE RESISTANCE WALL became a sustaining image that reminded all of us that we are not alone in our protests.
THE RESISTANCE WALL was immensely popular, and the responses were incredibly moving. Students requested that we keep the wall up all week so that worshippers could continue engaging these questions as they gathered for chapel each day. 
2.    Community Homily, "Make me an Instrument—a service of word and prayer around the image of clay" on October 30th, 2017, designed by Marquand Liturgical Minister Emilie Casey
"Make me an Instrument," was a service that explored the images of God as potter and God's people as clay.  As the assembly gathered for worship, they were handed a small piece of clay (play-dough) to hold throughout the service. The purpose of the clay was two-fold: first, it was an object that quite literally illustrated the clay image in scripture, and second, a material element such as clay can be a tool that helps our bodies to heardifferently—to listen with more intention. The assembly played with the clay while listening to Jeremiah 18:1-6, which describes God as potter and God's people as clay, and while listening to a dramatic recitation of James Weldon Johnson's poem "The Creation," a narrative retelling of the Genesis creation story that describes God forming humans from clay.
The assembly continued to play with clay as they were invited to ponder these questions:
1.     How is God forming you at this time?
2.     How is God molding you in this place?
3.     And how is God shaping you with this community?
Instead of a sermon, neighbors chatted with one another about these questions for about five minutes. Obviously, sharing such personal reflections in public can be emotionally challenging. However, we found that the play-dough functioned as a kind of icebreaker: it helped people relax, and thus more fully listen to and share with one another.
What is most striking about this example of communal homileticsis the way that these conversations about spiritual formation extended beyond Marquand's thirty-minute worship service. YDS students, faculty, and staff continued to have these conversations after worship during post-chapel coffee hour, in the hallways before classes, and even days later. While, hypothetically, a traditional sermon might have prompted such discussions, this Community Homily carved out the space for these sacred conversations within the context of worship, marking them as something sacred.
3.    Anonymous Reflections, "Service of the Word: Experiencing God" on November 14th, 2017, designed my student Chapel Ministers Julia Johnson and Karis Slattery
One of the great challenges of worship planning is finding ways to lift up introverted voices. Our student Chapel Ministers Julia Johnson and Karis Slattery came up with an extremely effective way to invite shyer personalities (who might be wary of preaching) to contribute in chapel: anonymous written reflections. In the weeks leading up to "Service of the Word: Experiencing God," Marquand Chapel solicited anonymous reflections via emails to the YDS community.
The Marquand Chapel Team invites you to submit a short piece on "Experiencing God." Selected pieces will be read anonymously…. We invite students, faculty, and staff to submit a piece on who God is to you, what God is to you, how you envision God, how you experience God, and how you address God. We encourage and welcome ALL voices.If you are interested in writing a piece to be read in Chapel, please frame your reflections/statements to roughly 200-250 words…. 
Five submissions were chosen to be read in chapel that day. Some reflections were more poetic and others more narrative, but they were all held together by the common theme of "Experiencing God." Strong readers were invited to read these anonymous reflections aloud in worship, offering new interpretive life to the written submissions.Each reflection was framed by paperless singing and moments of silence. The service concluded in prayers that addressed God using a wide range of vibrant metaphors.
Instead of one preacher's voice, we heard ten different voices—five written submissions interpreted by five excellent readers. The innovation of anonymity drew out untold stories and established a unique worship space in which something new about "Experiencing God" could be proclaimed. 
4.    Services that featured multiple short reflections or testimonies
Marquand regularly designs services that feature multiple short reflections on a common theme. This is especially effective when collaborating with student organizations; services with multiple reflections create more opportunities for upfront leadership and avoid one voice speaking on behalf of a complex group. 
"Invitation to Worship"on September 5th, 2017 (designed by student Chapel Minister Paul Olive-Reese) featured three short reflections from a few of our Chapel Ministers—Christopher Phillips, Jazzy Bostock, and Andrea Alvord—about why worship in Marquand Chapel was important to them. 
"Service of Word and Table, featuring Spanish and Portuguese languages" on October 6th, 2017 (designed by student Chapel Minister Dax Crocker) was a trilingual worship service planned in collaboration with La Comunidad, Yale Divinity School's Latina/o Association. This service included two short student reflections from Braulia Ribeiro and Rolando Rodgriguez about their lives as Christians removed from their communities of origin. 
"Rootedness and Ancestry," on October 9th, 2017 (designed by student Chapel Minister Jazzy Bostock) was curated in response to Indigenous Peoples Day. Two Indigenous students—Jazzy Bostock and Anthony Trujillo—offered short reflections on how one's place and one's peopleare deeply connected. 
"Pentecostal Praise," on November 29th, 2017 (designed by Chapel Minister Dax Crocker along with student Martine Bruno) featured two testimonies by students Deborah Lee and Solomon Mengesha about their journey to Yale Divinity School and God's call on their lives. 
We've found that three or four minutes per reflection is Marquand's sweet spot (often 300-460 words if written); it's enough time to say something of value, but not so long that the reflection feels like a formal sermon. A thirty-minute worship service might hold up to five short reflections, but two distinct reflections are enough to create that beautiful harmony only possible with multiple voices.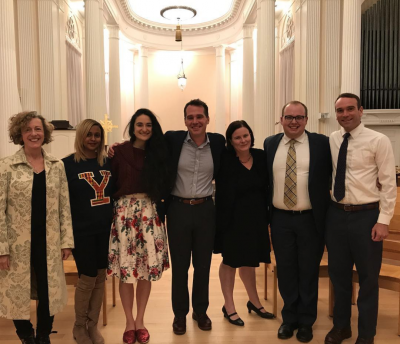 5.    Preaching Festivals: "5x7 Preaching Festival—Great is thy Faithfulness," on November 13th, 2017 and "Easter Hymn Sing: Preaching Festival" on April 2, 2018.
Counter to all the previous examples (and perhaps the tagline of this piece—"proclamation without preaching"), these special hour-long evening service embraced traditional preaching. They featured not just one,but five sermons. The Marquand preaching festivals are perhaps the most literal example of communal homiletics—proclamation of God's word by community, rather than individual.
In November, five graduating students were invited to preach for seven minutes each on the hymn, "Great is thy Faithfulness." Each sermon was unique; the preachers all chose different scriptural passages to speak to the hymn. Choosing a common hymn-text, rather than a common scriptural-text, opened up more possibilities for divergent preaching directions. And this divergence was extraordinarily stimulating! Many who attended the event commented that their understanding of the hymn was deepened by examining it from five distinct angles. We found that a worship service with five preachers, rather than one preacher, encouraged theological tensions, accounted for a wider range of experiences and viewpoints, as well as optimized the potential that a listener would receive good news. What held everything together was the common theme of "Great is thy Faithfulness." At the end of the service, Dean Maggi Dawn expertly drew in themes from all five sermons for one robust sending prayer.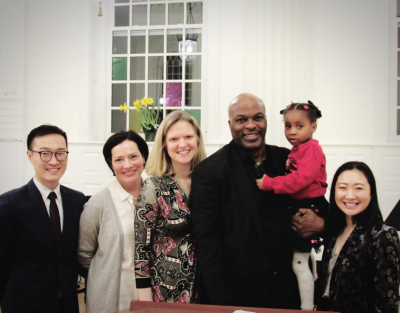 After the success of "5x7 Preaching Festival—Great is thy Faithfulness," we decided to adapt the preaching festival model to suit Marquand's tradition of holding an Easter Hymn Sing the evening after Easter day. On Monday, April 2 at 7:00 pm five graduating seniors—Eric Hung, Jessica Jones, Evan Parke, Xiao Situ, and Della Wells— preached seven minute sermons, each on a different Easter hymn.  The assembly was invited to sing their hearts out and enjoy refreshments together while hearing again the good news that Christ is risen!
By Emilie Casey, Marquand Liturgical Minister and Chapel Communications