Emilie Casey, Director of Marquand Chapel
Emilie Casey  came to YDS and Yale's Institute of Sacred Music as a student in 2013, and after graduating with an MDiv ('16) and STM ('17), Emilie started her work in Marquand Chapel. Emilie is passionate about liturgy and worship, homiletics, and collaborative worship planning. Prior to her studies at Yale, Emilie studied music education and clarinet at the University of Tennessee, Knoxville. Emilie is a pastor in the Evangelical Lutheran Church in America.
Nathaniel Gumbs, Director of Chapel Music
Nathaniel ("Nat") has had many years of diverse experience in church music. He grew up at Trinity Baptist Church in the Bronx, and by the time he was in high school had already developed a love of leading congregational singing. As an undergraduate music major at the Shenandoah Conservatory in Virginia, he held part-time positions in Lutheran, Episcopal, and Presbyterian churches. In 2011, he received the Master of Music degree from Yale University (YSM and ISM), where he also served as organist for Marquand Chapel. Since graduating from Yale, he has worked as Director of Music and Arts at Friendship Missionary Baptist Church in Charlotte, NC, where he oversees 350-400 volunteer musicians and staff in four choirs and other ensembles, and also serves as Sunday organist. He is a frequent guest musician at Abyssinian Baptist Church in Harlem, and is organist and clinician for the Hampton University Ministers' Conference. In 2012, he organized music for plenary sessions of the Democratic National Convention in Charlotte, NC. Last year he was named in the "Top 20 Under 30" by Diapason Magazine.
Nat completed the Doctor of Musical Arts degree at Eastman School of Music in 2019. 
Stephen Gamboa-Diaz, Assistant for Publications and Communications
Stephen works with the Institute of Sacred Music as Publications Assistant, supporting Melissa Maier in managing the ISM's many publications, as well as in marketing and communications efforts.  Stephen's principal areas of focus will be concert programs, worship bulletins, social media, calendars, and website content, as well as PRISM and The Yale ISM Review.
Stephen holds several music degrees, including two master's degrees from Stony Brook University in harpsichord performance and in music history/theory, a D.M.A. from Stony Brook in harpsichord performance, and an Artist Diploma from Yale, also in harpsichord performance. A longtime church musician, he is currently choirmaster and organist at Saint Ann's Episcopal Church in Old Lyme, CT, and an instructor of music theory at the Music Conservatory of Westchester, NY.  He has been associated with the ISM for several years as a performer on the harpsichord and continuo organ, also maintaining and tuning harpsichords in our care. In addition, this past year he has also played an administrative role assisting with concert programs, the ISM music library, and other calendaring and production systems development.
Mark Miller, Director of Marquand Gospel and Inspirational Ensemble
Since 1994, Mark Miller has served on the faculty of Drew Theological School in Madison, New Jersey, where he is director of music, composer in residence, and instructor in church music. He is also the minister of music at Christ Church in Summit, New Jersey; minister of music at Covenant United Methodist Church in Plainfield, New Jersey; and composer in residence for the Harmonium Choral Society, based in Morris County, New Jersey.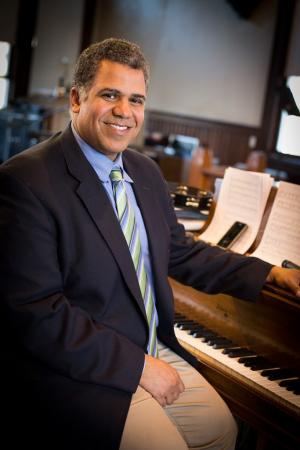 From 2002 to 2007 he was director of contemporary worship at Marble Collegiate Church, and from 1999 to 2001 was music associate and assistant organist at the Riverside Church, both in New York City. He travels regularly around the country to perform concerts and lead worship. He has published music with Abingdon Press, Choristers Guild, and Pilgrim Press, and his songs are found in the hymnals The Faith We Sing, For Everyone Born, Zion Still Sings, Sing! Prayer and Praise, Amazing Abundance, and others. His organ work, Toccata on "God Rest Ye Merry" (recorded in 2000 on Gothic's label) was featured on National Public Radio's program Pipe Dreams. James Earl Jones was the narrator of his original work Let Justice Roll: Song from a Birmingham Jail, which was also featured on NBC's program Positively Black.