Awet Andemicael, Dean of Marquand Chapel
Awet Andemicael is a musician and theologian, writing primarily on music and theology, and theological engagement with early Christian sources. As a concert and operatic soprano, she has sung at festivals and concert venues across North America, Europe, and Japan. She has received music awards from numerous organizations, including the Metropolitan Opera National Council and the Oratorio Society of New York.
Her current theological research focuses on the political thought of St. Irenaeus of Lyons as a resource for contemporary theology. Publications include articles in Studia Patristica (upcoming), Anglican Theological Review, Pneuma, Worship, and Christian Century, as well as chapters in Theology, Music, and Modernity (Oxford UP, 2021); Music, Theology, and Justice (Rowman, 2017), For Such a Time as This (2014), and a co-authored essay in The Future of Religious Leadership (2016). She has also contributed devotional entries to Praying with the Psalms and Awakening to Witness: Daily Reflections from Ash Wednesday to Easter, published by Cathedral of St. George the Martyr in Cape Town, South Africa. Her research study, Positive Energy: A Review of the Role of Artistic Activities in Refugee Camps (2011), was published by the United Nations High Commissioner for Refugees. She has served as a consultant on music and theology, refugee studies, and interfaith engagement, including involvement in scholarly working groups, membership in the Jerusalem-based Elijah Interfaith Institute Academy, and an interview featured on Swedish public television. 
Awet has been a visiting researcher at the University of Stellenbosch, South Africa, and the University of the South, USA. She received fellowships and grants from the Ford Foundation; the Forum for Theological Education; the FIIT-Global Network of Research Scholars for Theology, Religious and Christian Studies; and the AKA Educational Foundation. As a student at Yale, she was awarded several fellowships, as well as the Tew Prize in Theology, the Hugh Porter Prize, the E. Stanley Seder Scholarship, and the ISM Faculty Prize.
Committed to education and mentoring, she has served as a lecturer at Yale Divinity School and the Institute of Music, and was selected by the students of YDS to represent the school at Inspiring Yale in 2019. She has also taught courses on music and worship and theologies of reconciliation at the Université Chrétienne Bilingue du Congo in Beni, as well as vocal master classes and workshops on singing and Christian spirituality in the United States and abroad.
A.B. cum laude, Harvard University; M.F.A. University of California, Irvine; M.A.R., summa cum laude, Yale University; Certificate, Yale Institute of Sacred Music; M.A. University of Notre Dame.
 
Nathaniel Gumbs, Director of Chapel Music
Nathaniel ("Nat") has had many years of diverse experience in church music. He grew up at Trinity Baptist Church in the Bronx, and by the time he was in high school had already developed a love of leading congregational singing. As an undergraduate music major at the Shenandoah Conservatory in Virginia, he held part-time positions in Lutheran, Episcopal, and Presbyterian churches. In 2011, he received the Master of Music degree from Yale University (YSM and ISM), where he also served as organist for Marquand Chapel. Since graduating from Yale, he has worked as Director of Music and Arts at Friendship Missionary Baptist Church in Charlotte, NC, where he oversees 350-400 volunteer musicians and staff in four choirs and other ensembles, and also serves as Sunday organist. He is a frequent guest musician at Abyssinian Baptist Church in Harlem, and is organist and clinician for the Hampton University Ministers' Conference. In 2012, he organized music for plenary sessions of the Democratic National Convention in Charlotte, NC. Last year he was named in the "Top 20 Under 30" by Diapason Magazine.
Nat completed the Doctor of Musical Arts degree at Eastman School of Music in 2019. 
Michael Libunao-Macalintal, Liturgical Minister and Chapel Communications Manager
Michael Libunao-Macalintal came to YDS as a student in 2017, graduating with an MDiv ('20). As a student, he was involved in student government, served as a chapel minister, and worked with students across the graduate school network. After his time at Yale, Michael went to work as the Assistant Director of  Campus Ministry at Gonzaga College High School. Michael is passionate about homiletics, worship planning, ecumenism, and developing new forms of lay Catholic ministry. Prior to his studies at Yale,  Michael studied theology at Fordham University in New York, and served as a youth minister at St. Mary's Parish in Pompton Lakes, New Jersey. 
Mark Miller, Director of Marquand Gospel and Inspirational Ensemble
Since 1994, Mark Miller has served on the faculty of Drew Theological School in Madison, New Jersey, where he is director of music, composer in residence, and instructor in church music. He is also the minister of music at Christ Church in Summit, New Jersey; minister of music at Covenant United Methodist Church in Plainfield, New Jersey; and composer in residence for the Harmonium Choral Society, based in Morris County, New Jersey.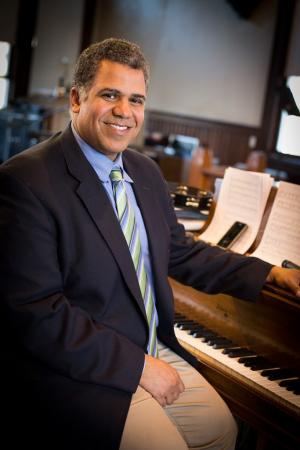 From 2002 to 2007 he was director of contemporary worship at Marble Collegiate Church, and from 1999 to 2001 was music associate and assistant organist at the Riverside Church, both in New York City. He travels regularly around the country to perform concerts and lead worship. He has published music with Abingdon Press, Choristers Guild, and Pilgrim Press, and his songs are found in the hymnals The Faith We Sing, For Everyone Born, Zion Still Sings, Sing! Prayer and Praise, Amazing Abundance, and others. His organ work, Toccata on "God Rest Ye Merry" (recorded in 2000 on Gothic's label) was featured on National Public Radio's program Pipe Dreams. James Earl Jones was the narrator of his original work Let Justice Roll: Song from a Birmingham Jail, which was also featured on NBC's program Positively Black.